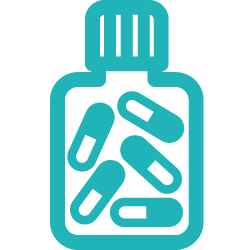 LATEST IVC FILTER NEWS & RECALLS
The Food and Drug Administration (FDA) has issued two alert alerts on blood coagulation filter implants with respect to the use of CVI filters, one in 2010 and the other in 2014. In 2005 and 2010, the agency received more than 900 reports of adverse events related to VCI.
What IVC FILTER Is Used For?

IVC, or Inferior Vena Cava Filters, are small, metal cage-like devices that are implanted in the veins to catch blood clots before they reach the heart or lungs.
IVC filters are generally used in patients with emergency blood clot risks or those who can't tolerate anticoagulant medications.
‍Blood clots and the resulting strokes, heart attacks and pulmonary embolism are responsible for approximately 300,000 deaths each year in the United States.
IVC filters were first introduced in 1979, when they were only implanted in around 2,000 people per year. Now, they are used in an estimated 250,000 patients annually.
The filters are usually implanted by a vascular surgeon, although it is no longer necessary to perform surgery to do so. They can be placed in the inferior vena cava, the largest vein in the body, simply by making a small incision in the groin or neck.
IVC filters are designed to be either removable or permanent, depending on the length of time the blood clot risk will last. However, the FDA has warned that many temporary filters have instead been left in place.
‍Now, the FDA has received more than 1,000 reports of patient injury or death from IVC device breakage, migration or vein perforation, and a new report suggests a leading manufacturer may have hidden their risks.
SYMPTOMS & SIDE EFFECTS OF IVC FILTER

FDA Warnings

After Bard released the Recovery IVC filter in 2003, reports indicate the company became aware the device had significant risks for fracture or vein perforation. However, instead of issuing a recall, they simply replaced it with a slightly better version, the G2, in 2005.
Later studies indicate that as many as 1 in 3 of these devices can fail after implant, putting patients at risk of heart, lung or vascular injury.
By August of 2010, the U.S. Food and Drug Administration issued a warning to physicians working with the devices that the agency had received an alarming number of reports of complications among patients in the 5 previous years.
‍They cautioned that a large majority of those patients who received temporary implants had not had them removed, and that failing to do so may increase the risk of injury.
‍In total, the 2010 FDA warning listed 921 complaints of Bard IVC failure, including:
328 instances of IVC movement
146 cases of device detachment or blockage
70 reports of tearing in the inferior vena cava vein
56 cases of filter breakage.
In July of 2015, the FDA sent a warning letter directly to Bard, notifying the company that it had violated agency rules with regard to misbranding, device cleaning, failing to report patient side effects, and mislabeling severe injuries or deaths as simply "device malfunctions."
IVC Filter Companies

The top IVC filter companies include Bard, Cook, B. Braun, Cordis & ALN.
Bard IVC Filters

IVC filters have been sold under several different brands, including:
Bard Recovery
Bard G2
Bard G2 Express
Cook Celect
Cook Gunther Tulip
B. Braun Tempofilter
Cordis OptEase
ALN IVC Filter.
If you received any of these implants, it is important to speak with your doctor about whether you are a candidate for removal as soon as possible.
Bard IVC Filters

Recent studies have shown that between 12% and 31% of all Bard IVC filters implanted may fail, causing the potential for serious patient injury or death.
Although design improvements in the later models have made them slightly safer, all patients should still be aware of the risks of these products, and talk with their doctor about their options for removal.
In 2005, doctors from the New England Society for Vascular Surgery examined data from the FDA adverse event reporting system that indicated nearly 32% of Bard Recovery IVC filters might experience fracture or breakage of their metal arms.
In 2008, the Journal of Vascular and Interventional Radiology published a study showing as many as 36% of Bard Recovery IVC filters suffered breakage, with 21% of patients experiencing migration of the broken pieces toward the heart or lungs.
Then, a Pennsylvania hospital study released in 2010 in the Archives of Internal Medicine was the first to track the failure rate of both the older Bard Recovery filters and the newer Bard G2 filters.
Overall, researchers found that 16% of the Bard filters experienced a breakage of metal components, with the older filters failing approximately twice as often. In almost 9% of patients, the metal fragments traveled into the heart. One patient even died during the study.
Cook IVC Filters

While most FDA and media attention has focused on the failure rate of filters made by Bard, the Celect and Gunther Tulip brand IVC filters sold by Cook Medical may actually have higher risks for vein perforation.
In studies published as early as 2009 by the Journal of Medical Imaging and Radiation Oncology, doctors found that a significant number of patients implanted with Cook Celect filters experienced perforation or embedment into their inferior vena cava wall.
In 2012, a study from Cardiovascular and Interventional Radiology found that 100% of test patients experienced vein perforation from Cook Celect IVC filters after a period of 71 days.
Now, a study published in June 2015 by the Journal of Vascular Interventional Radiology has concluded that 43% of Cook IVC filters result in vena cava perforation.
Latest IVC FILTER News & Recalls

The Food and Drug Administration (FDA) has issued two alert alerts on blood coagulation filter implants with respect to the use of CVI filters, one in 2010 and the other in 2014. In 2005 and 2010, the agency received more than 900 reports of adverse events related to VCI. from Bard and Cook who had several problems:
Device that migrates out of the vena cava.
Separate the parts that have caused embolization (the same problem that they are supposed to avoid)
Perforation of body parts by the filter.
Filter breaks
Read More
Although the FDA is fully aware that the use of filters in patients at risk of pulmonary embolism (PE) often requires long-term implantation, in other patients, where the risk of blood clots has decreased. , the FDA warned that the devices should be removed In its 2010 safety briefing, the FDA said: "The FDA fears that these CVI retrievable filters, intended for short-term placement, may not always be eliminated once. the risk of the appearance of a PD in a patient has disappeared, and the VCI filters implanted eliminate them as soon as they are no longer needed, and again, in its 2014 safety communication, the FDA reaffirmed and emphasized the importance of removing the devices soon as they were no longer needed, however, even with these safety warnings, many patients who no longer need filters have already implanted them.
Class Action

A recent NBC News report found that Bard may have known the dangers of their Recovery IVC filter as early as 2003. However, instead of issuing a recall, they continued selling over 34,000 units until 2005, when they phased it out for the only slightly safer G2 model.
IVC Filter Lawsuits: Bard & Cook Medical
In the years since, the FDA has received reports of over 1,000 injuries and at least 27 deaths linked to Bard Vena Cava filters.
The NBC report also suggests Bard may have concealed the dangers of their IVC filters from doctors and the public, and even forged the signature of a regulatory advisor in order to gain approval of the device from the FDA.
Now, a growing number of patients have filed lawsuits against Bard and Cook Medical over side effects suffered from their IVC filters. Due to the volume of these cases, they have been consolidated into special federal courts for quicker handling.
So far, more than 117 patients have filed claims against Cook Medical for injuries suffered from the Celect and Gunther Tulip filters. The U.S. Judicial Panel on Multidistrict Litigation has centralized these cases into federal multidistrict litigation court (MDL) 2570 in the Southern District of Indiana under Chief District Judge Richard Young.
The case is known as IN RE: Cook Medical, Inc., IVC Filters Marketing, Sales Practices and Products Liability Litigation.
In August, the JPML also consolidated the rising number of IVC claims against Bard into MDL 2641 under U.S. District Judge David Campbell in the Arizona federal district. That case is known as IN RE: Bard IVC Filters Products Liability Litigation.
Lawyers are continuing to help those injured by Bard or Cook Medical IVC filters file lawsuits. Compensation may be available for those who've suffered complications including:
Bard Recovery
Bard G2
Bard G2 Express
Cook Celect
Cook Gunther Tulip
B. Braun Tempofilter
Cordis OptEase
ALN IVC Filter.
For more information on the FDA warnings and ongoing research into IVC filter risks, or to speak with a lawyer specializing in these lawsuits, contact us today.
What are the dangers of IVC filters?

IVC filters have been linked to a number of severe complications, including:
Filter fracture
Filter migration
IVC vein perforation
Damage to heart, lungs or veins
Heart blockage
Disruption of heart rate.
The dangers of IVC filters center around the risk that the metallic arms of the devices will perforate through the venous wall, that the devices will move through the vein, or, worst of all, that a small piece of the metal device will break off and travel into the heart or lungs.
So far, the FDA has received reports of more than 1,000 severe side effects and 27 deaths linked to these blood clot prevention devices.
Research has found that between 21% and 43% of IVC filters may fail, with the likelihood increasing the longer they are left in place.
Most adverse event data surrounds the IVC filters manufactured and sold by C.R. Bard and Cook Medical, although this may be due to the fact they are the top sellers in the class.
Injuries caused by the inferior vena cava filters (IVC) can be easily fatal. Those who survive may suffer permanent disabilities. Surgery to remove a defective VCI filter is very dangerous and, in some cases, the filter can not be removed. If you have a defective IVC filter that can not be removed, serious injury or death can occur at any time. The value of your request will depend on the unique circumstances of your case.
Economic damages are those that have a specific monetary value. This includes your medical expenses, your loss of income and other non-reimbursable expenses. Your current or past economic damage is quite simple. Calculating the future economic damage is more complicated and requires the help of medical experts, economists and other experts. When calculating your future economic damages, your lawyer should establish factors such as:
Read More
If your injuries are supposed to be permanent.
If you need additional medical treatment for your IVC filter injuries or secondary conditions
If you can continue to earn a living and if it will be as much as you earned before the injury
If you need help and equipment due to disabilities caused by your injuries
HOW TO FILE A CLAIM
Do you want to learn if you have a case? The lawsuits are being filed on behalf of those patients who suffered:
Fracture
Vein perforation
Lawyers expect that thousands of patients will ultimately come forward with injuries to file claims. As is often the case with drug injury lawsuits, cases may eventually be consolidated in a central federal court for expedited handling.
A lawyer can speak with you today to determine if your case qualifies, and it costs nothing to investigate or file your claim unless you receive compensation.