Xarelto is the brand name for the drug rivaroxaban, an oral anticoagulant manufactured by German pharmaceutical company Bayer.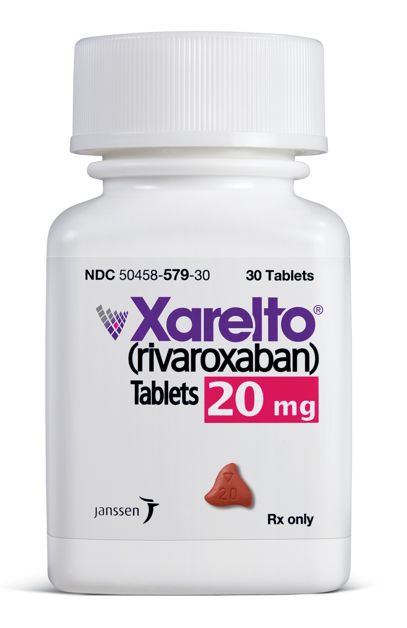 Information about settlements

Get in touch with us

New Generation Blood Thinners

Xarelto is a new-generation blood-thinning drug manufactured by German pharmaceutical giant Bayer. It was approved for use in the United States in 2011 and is sold in partnership with Johnson & Johnson.
Xarelto is similar to Eliquis and Pradaxa, among a class of anticoagulant drugs designed to replace warfarin. Unlike warfarin, it can be prescribed without regular blood tests or changes in diet. However, experts have warned it may carry greater risks for internal bleeding, since there is no reversal agent for emergencies.
Xarelto Linked to Bleeding Injuries

In just a few years since it was introduced, Xarelto has been linked to over 1,000 bleeding injuries or deaths in the United States. In most cases, patients were not aware of the severe bleeding risks.
Last year, the nation's leading group of gastroenterology doctors warned that blood thinners like Xarelto may be 48% more likely to cause major internal bleeding. Also, the Institute for Safe Medication Practices included it in their list of the ten most dangerous drugs on the market.
Already, lawyers have helped thousands of patients who suffered internal bleeding while taking the similar drug Pradaxa file lawsuits that resulted in a $650 million settlement.
Now, lawyers are helping those injured by Xarelto as well. This year, the family of a patient who passed away from severe internal bleeding filed the first Xarelto lawsuit against Bayer and J&J, and the companies have admitted several more new cases filed.
Claim Information

We are no longer accepting Xarelto cases. Learn more about the pending litigation.
Xarelto Class Action Lawsuit

In the case of defective and dangerous medications, thousands of people can suffer similar injuries after a drug has been on the market for only a few years. Just as with other dangerous products, the manufacturer is liable for damages.
While many would expect there to be a Xarelto class action lawsuit for these claims, they are most often handled through individual lawsuits that are consolidated in a special centralized court. This way, plaintiffs can share the benefit of a combined group while still maintaining control over their individual case.
Multidistrict Litigation Court (MDL) for Xarelto

In December 2014, the United States Judicial Panel on Multidistrict Litigation rendered a transfer order that established a Xarelto multidistrict litigation (MDL) court in the Eastern District of Louisiana.
This case will be known as MDL # 2592, In Re: Xarelto (Rivaroxaban) Products Liability Litigation.
The Xarelto MDL will be presided over by U.S. District Judge Eldon E. Fallon, an experienced judge who has handled such high profile litigation as Vioxx and Chinese Drywall. Lawyers believe he will ensure a thorough gathering of evidence and fair trials.
The job of the MDL court is to manage the pretrial coordination of evidence, establish parameters and rules for trials, and conduct bellwether trials to gauge how juries will react. It provides the benefits of a class action case while allowing plaintiffs to keep their lawsuits independent and pick their own attorneys.
Based on the results of these proceedings, the parties may decide to pursue a settlement. A similar MDL court was used recently for over 3,000 internal bleeding cases for the drug Pradaxa, which resulted in a $650 million settlement for victims.
Xarelto Case Value

Since every case is unique, it is impossible to predict how a court will rule or what any particular case is worth. However, in general, the damages suffered by a patient and their family from emergency internal bleeding can be substantial.
In most cases, patients must receive emergency transport, treatment and diagnostic testing, followed by days or weeks of recovery and stabilization.
Even with adequate insurance coverage, the outstanding bills for hospitalization, doctors' fees, tests and rehabilitation can be significant.
In addition, many patients lose valuable time away from family or work, and the loss of future activity. Finally, the cost of ongoing treatment, medication and check-ups can be a great burden.
In the worst of situations, patients may pass away when suffering from uncontrollable internal bleeding that cannot be reversed due to the lack of a Xarelto antidote. This sudden and unexplained loss of a loved one can be among the most difficult hurdles for a family.
Like recent cases involving bleeding from the drug Pradaxa, lawyers anticipate Xarelto lawsuit values could be substantial for patients who were injured and those who have lost a loved one.
Xarelto Lawyers
Lawsuits involving serious injury or death from drugs and medical devices are often highly complex. In addition to extensive medical records, evidence rules on clinical research and multiple medical experts, and litigation in specialized multidistrict courts, lawyers must fight against powerful multinational pharmaceutical companies.
Despite numerous television advertisements for defective drug litigation, there are only a small number of lawyers that actually enter the courtroom to fight these cases. Therefore, it is important to speak with a lawyer that specializes only in defective drug litigation.
We recommend only lawyers who have already handled numerous blood thinning medication cases and Xarelto lawsuits.
For more information on the warnings, side effects or lawsuits for Xarelto, or to speak with a Xarelto lawyer, contact us today. We are available 24 hours a day to help.
Xarelto Lawsuits

Most serious internal bleeding injuries related to Xarelto involve uncontrollable gastrointestinal bleeding (stomach and intestines), or brain hemorrhaging (bleeding in the brain).
Both of these can result in extended hospital stays, ongoing follow-up treatment, or even death in extreme cases.
Anyone who has treated for such an internal bleeding injury, as well as family of those who died, may be eligible to file a Xarelto lawsuit.
Sources of information
Jefferson, E., FDA Approves Xarelto to Reduce Risk of Blood Clots After Hip, Knee Replacements. FDA Press Release. (July 5, 2011).
Retrieved from www.fda.gov
Pierson, R., Insight: Top Heart Doctors Fret Over New Blood Thinners. Reuters. (June 12, 2012).
Retrieved from www.reuters.com